A lonely swan
My two older kids are now studying in Universities. We just sent the youngest off to college in May 2012. Except for the company of my three dogs, a school of guppy fish and a fifty plus year old man who has put a ring on me for the last twenty-four years and still loves playing video games, my so called 'nest' is now empty.
When my kids were growing up, I was lucky because my mom(God bless her) found me a babysitter who was very capable and good with children. How capable? She once took care of eight young kids ranging from one baby, a few toddlers, pre-schoolers and adolescents. I hardly hear the babies cry. She is that capable.I trusted her fully to take care of my brood while I focus on catching the money train.
From the time they were born until they were toddlers , I would see them after work and bring them home on weekends. As adolescents, they spend school days at the sitter's house and come home for the weekends, holidays and school breaks. Honestly, I am not cut out to be a full time mom and I do feel guilty for not spending more time with them when they were children. However, I feel that I connect with them better now that they are young adults.
Having the whole house to myself was a refreshing change. One thing for sure, the kids rooms never looked better, if you know what I mean. So when I came across the word, "Empty Nest Syndrome," I decided to check it out.
The Downside of Empty Nest Syndrome
When all the children leave home, parents or guardians may have a general feeling of grief and loneliness. For an adult child to move out of his/her parents home is viewed as a normal and healthy event therefore the symptoms of empty nest syndrome often go unrecognized. For parents, depression as well as a loss of purpose will set in. When their children finally 'leave the nest," parents must accustom themselves to the changes in their lives.
All parents will experience empty nest syndrome in varying degrees. However, some parents would find it harder to adjust compared to others.
While writing this topic, I recall a conversation I had with my babysitter. She said that she felt that her children do not need her anymore. You see, all her three children have married and living elsewhere. Her husband was working in another state and seldom comes home. At any one time her home will be filled with noisy children and babies of all ages since she babysits full time. Eventually, the kids grew up and returned to their own parents home just like mine did. In her late fifties, she suddenly finds herself alone in a big empty house.
However, as time passes, her life was filled once again with taking care of her two grandchildren. Now, her husband has retired and ferrying his two grandsons to school. Meanwhile my sitter has found a part time job at the same school canteen that her grandsons go to. Her life has a purpose again.
Symptoms, Effects and Challenges
Stressful life events such as death of a spouse, menopause, or retirement may also be contributing factors.
Initially, I did feel sad when my kids left and worried a little whether they will be able to cope with being on their own. However, as time passes and keeping in touch with them eased my mind because I am assured that they will survive in the real world. Talking about my anxieties to my dear hubby helps, too.
Some of the symptoms include:
Depression

Loss of purpose

Worry, stress, or anxiety over the welfare of the child

Feelings of rejection
Parents who experience empty nest syndrome have self doubt about whether they have given enough guidance to their child to live on his or her own. Some would feel rejected by thinking that their child does not need them anymore. Others feel they have lost the sense of purpose. All they have been doing and know was raising, parenting and diciplining their children which they are suddenly no longer required to do.
Mothers who are more often than not the primary caregivers, are more likely than fathers to experience empty nest syndrome. However, research has shown that some fathers feels unprepared for the emotional transition following their child leaving home and also feeling of guilt for not being actively involved in their children's lives when they were growing up.
They are faced with new challenges such as building a new kind of relationship with their children, finding other ways to occupy their time, reconnecting with their spouse, facing lack of sympathy from people who believe that parents should be happy with their new found freedom to do whatever and whenever they feel like doing.
The easiest ways for parents to cope with not seeing their children is to keep in contact with them. By phone, text messaging, emails, social media networks such as Facebook, online video- calls and Skpe which
have become very popular over the past few years.
Activities
Their free time can be spent on various activities such as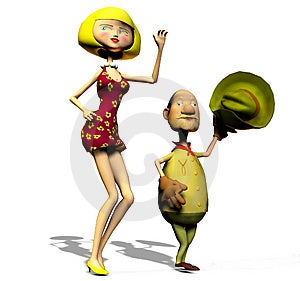 Dancing
Take up a hobby like painting, sewing, gardening

Learn to dance Ballroom, Jive, Cha-Cha, Rhumba, Tango, Line dancing

Attend exercise classes such as Tai Chi, Yoga, Aerobics, Pilates

Join senior citizen Karaoke clubs

Do charity work or join community or volunteer services

Spend quality time with the spouse by going on a cruise or an overseas trip

Find a part time or full time job

Learn new skills such as how to use a computer, laptop, Iphone, Ipad etc

Follow a blog community or create a blog

Join a social network such as Facebook

Karaoke

Yoga



Learn new skills


Photocredit: StockFreeImages.com
The Upside of Empty Nest
I

t does sound grim after reading the downside doesn't it? However, there is always two sides to a coin. Lets us now explore the bright side of having an empty nest......
I can do what I like, when I like, how I like, with whom I like and Be Happy.
That sums it all up, don't you think so? The last part is the icing on the cake and it comes along with the territory.
However, there is another possible downside that can happen which I refer to as
"The Squatters Syndrome." The expert's term is "The Boomerang Generation"....sounds better right? Well, it makes no difference to me as it has the same meaning.
Squatters are people who live in other people's land or homes without paying any rent or expenses.
Well, sometimes it is not by choice that children will move back to live with their parents after completing their studies. The chances of finding the right job straight after graduation to suit their qualification is in reality low unless the child happen to be in the right place and at the right time.
Some may have found a job. The main reason they decide to stay home is to save rental and food cost.
Meanwhile, they come back home to stay making life miserable for their parents by doing the following:-
They do not contribute to household expenses,

Do not help with the house chores or keep their rooms clean and tidy.

They stay out late, come and go as they please.

Drives the parents car and not replenish the petrol after using. (Pray hard that they bring the car back in one piece.)

Indiscriminate use of the telephone, computer, television and shower.

Eat more than their share of food.

Pick up bad habits such as smoking, drinking or gambling.
Researchers have found that almost half of the study group report increased conflict with their children due to the above reasons. Most wanted their children to be, "up, gone and on their own." This study was conducted on families living in the USA. I do not have the statistics for Malaysian children.
I am proud to say that I was living with my parents after starting work until I married because I do contribute to the household expense, help with the house chores and would give them a monthly spending money and some extra at the end of the year and during Chinese New Year and continued to do so after marriage.
Parents need to let their adult child know what is expected of them if they want to come home to stay. My mother sat me down and gave me the ground rules. She was explicit and I respected and heeded her words. Open communication with our children will save us some heartache and frustration.
Yes, I have an empty nest and I view it as a good thing because I get to do the things I want and have the time to enjoy doing it.
Thanks for looking and taking the time to read my blog. I welcome feedback and please feel free to share your experiences in relation to today's topic.
Until my next post, "Here's to your health!"

Related articles