Poor Tyson is infested with ticks. It was so bad that his body felt lumpy and he started losing his appetite.

The pest were mostly feeding
on his back, ears and under belly.
I suspect they came from
stray dogs that come and hang around the front gate past midnight. L
ike clockwork
the neighbor's dogs or
Tyson will be barking nonstop
practically every night
for the past month
.
Not only do we have to disinfect Tyson
but also the at the car park, on the walls, verandah, pillars and the doorways. Emerging from their hiding places to get away, some of the ticks are crawling into the house!
The
fat ones are wedged between the
door frame. The smaller ones will stick to the stair edges. A small tick even
managed to climb high up the wall. One night, we were catching stray ticks and
spraying pesticides at 2 am in the morning!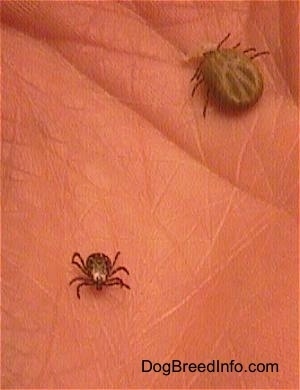 Top-Dog tick that is engorged
Bottom-Dog tick that has not fed yet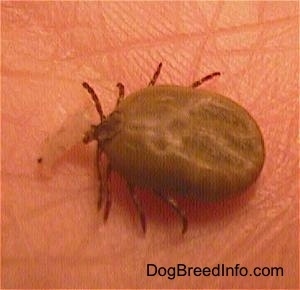 Close-up of an engorged tick with a piece of skin from the dog still attached to its mouth
One by one, the ticks are starting to die
and drop off Tyson when he scratches. Some are still alive but die a slow death. I have to wash the
porch and verandah every day since he would bite some with his mouth leaving
blood splattered all over the white tiles. I just hope he did not swallow. Two weeks has passed and I
am still squashing one or two live young ticks crawling into the house to find refuge.
Left: Jay Jay Right :Dee Dee
Luckily, both pinschers, Dee Dee and Jay
Jay were not infected as they are kept in a separate enclosure. I am happy to report that Tyson has regained his appetite and his scratching has lessen.
What home remedies can prevent a tick attack on your pooch?
Apple Cider Vinegar(ACV)
Add one cup of ACV to three cups of water for your dog to drink. Ticks do not like the smell of ACV. To bathe, add three to four cups of ACV in your dog's bath.
Sprinkle some brewer's yeast in your dog food may help eliminate tick problems. You can find brewer's yeast in most natural food stores.
Lavender
Add lavender to your dog's bed to repel ticks. Lavender is a natural insecticide and also has antibacterial properties.
Neem's oil is a natural insecticide, antiseptic and antibacterial. Not only does it repels ticks, it can also repel fleas and mosquitoes.
Manual Removal
Use a tweezer to remove the tick and be careful that the mouth of the tick does not break off as it can cause skin irritation. Wipe the wound with antiseptic.
Over the counter medication
If all else fails, you can buy these products from any pet shops near you.
My upcoming topic for discussion is, "Can A Woman Have Enough Shoes?".
You may also like to read:
I think that this drawing is fitting since the topic is about my pet dog. Hope you like it.
Thanks for looking and taking the time to read my blog. I welcome feedback and please feel free to share your experiences in relation to today's topic.
Until my next post, "Here's to your health!"